Horse Racing Racecards Explained Part 2
RacingFormBook Class Ratings
Horse Racing Racecards Explained Part 2
These notes are provided to give an explanation into the RacingFormBook racecards. Whether you are familiar or not with using Horse Racing racecards, we think you should find these informative and easy to use.
The Race Meeting Racecard page details each race that is to take place at the racecourse that day.
The main features of this page is the ability to look further at an individuals past performances, simply by clicking on the horse's name.
The individual items that make up this page are:-
Racecourse – the track or meeting name.
Time the race is to take place.
Distance of the race.
The individual race name.
Class of race and age group that will take part. The Weight For Age allowance will be shown at the end . Here a minus figure represents the amount the youngest age horse is deemed to be allowed from the older ones.
Going (surface) the race will be run on.
Prize money to the winner.
Number of runners.
Racecard number.
Starting stall Draw number.
Form figures.
Horse's name followed by Days since it ran.  +             D = Won at distance same as this race.
C = Won at the course.
CD = Won over the course & distance.
BF = Was a beaten favourite last time out.
Horse age.
Weight to be carried stones – pounds followed by any Aids or weight penalty (ex pounds).
b blinkers.
p cheek pieces.
v visor.
t tongue tied.
h hood.
Trainers name.
Jockeys name with allowance (pounds) to take off the weight.
Official handicappers rating.
Our Class Rating, best rating recorded from last 2 races.
Our Class Rating for best rating recorded last 3 races
Our Class Rating, being the highest figure in the past year.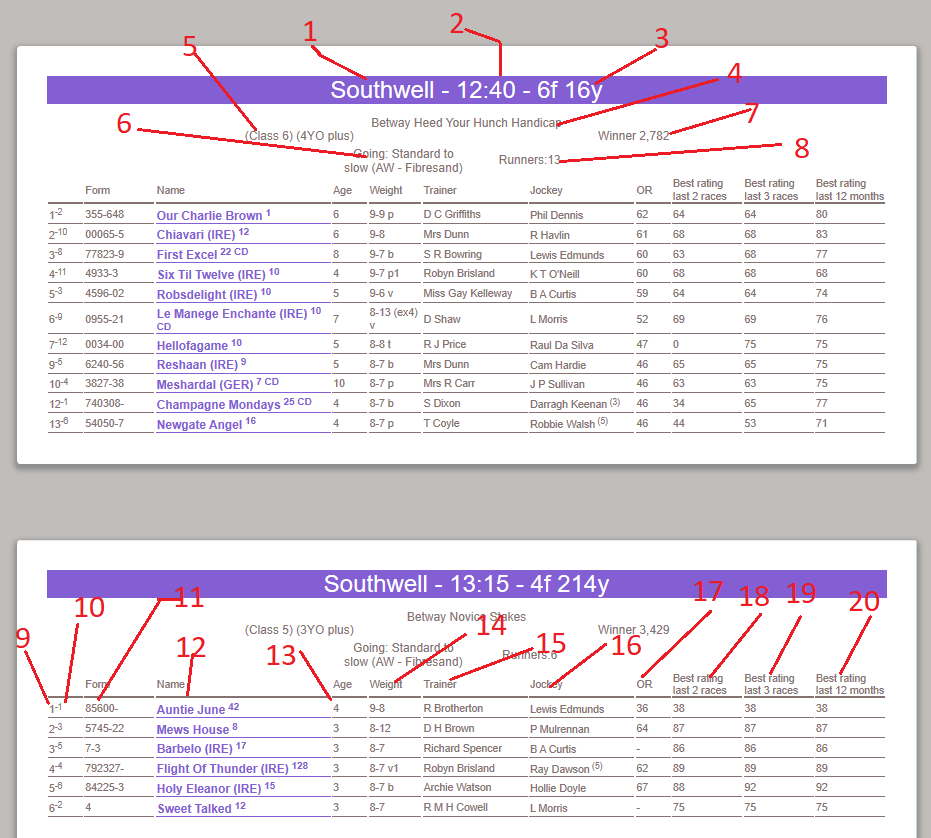 Additional note regarding the Class Rating column
These are details based on the same type of event. If the race is a Flat race only the rating earned under that code are used.
The 4 codes of racing are
' ' Flat races
'c' Chase races
'h' Hurdle races
'b' Bumper or National Hunt Flat races
The last 2 races will be the last 2 races under the same code. This 'same code' rule for the ratings applies to the last 3 and 12 month figures also.
The last 2 and 3 best figures are also limited to those ratings recorded within the last 12 months.
Please note there is no subtraction of any Weight For Age Allowance, where it might be applicable, for the younger horses. See note 5 above.
Articles On Using the Racecards
Simply put RacingFormBook will help inform and assist you to find winners and enjoyment from Horse Racing. Provide a unique rating method and racing results/racecard data.
To further anyone's ambition to use the information, whether this is as a point of reference, a repository for their ratings or to enable the research into racing systems.