Horse Racing Racecards Explained Part 3
RacingFormBook Class Ratings
Horse Racing Racecards Explained Part 3
These notes are provided to give an explanation into the RacingFormBook racecards. Whether you are familiar or not with using Horse Racing racecards, we think you should find these informative and easy to use.
Horse Performances Summary
The Horse Performance Summary page details the races that an individual has raced in, starting with the most recent first.
What is most significant, from a navigation point of view. If you click on the coloured Race Conditions detail for a race, you will be transferred to the full result for that paricular race.
With the horses name appearing in the banner the following information is detailed on this page:-
Date that the race took place.
The Race Conditions, namely Course, Distance, Going, Class, Age limits, and Prize Money of the race it ran in.
Age – Weight – Aid.  This details what the age of the horse was at the time it competed. Then the weight carried (stones – pounds). This is followed by any other weight related details. Last any Aids such as blinkers etc that the horse wore.
Race Outcome. details this horse's finishing position.
The amount the horse won by or the total distance in lengths beaten. The horse it beat or the actual winner of the race is given.
The jockey (and any allowance) who rode the horse.
The official handicap (OR) rating the horse had that day.
The Class Rating is the Racingformbook individual Class Rating awarded to the horse for this particular race.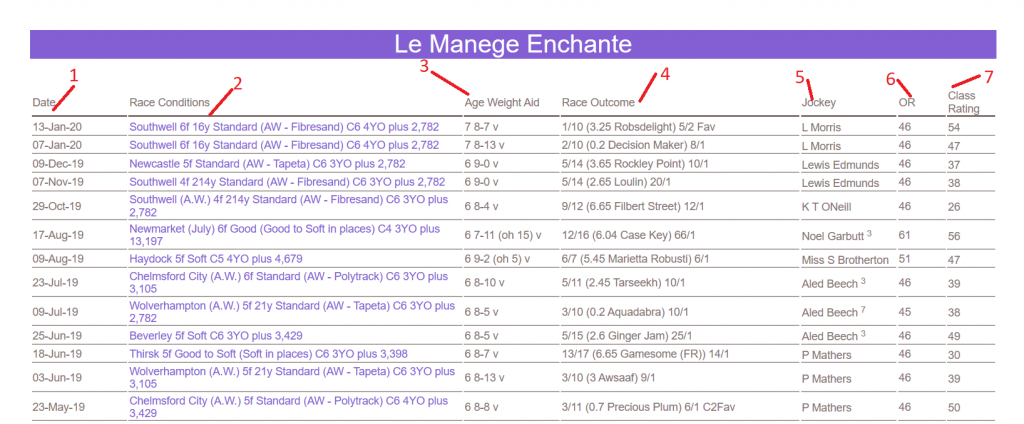 Were you aware that we highlight the different forms of horse racing with the Class Ratings?
The ratings are labelled with a letter to denote the 4 codes of racing. These are as follows:-
' ' Flat races i.e. there is no letter shown.
'c' Chase races
'h' Hurdle races
'b' Bumper or National Hunt Flat races
The details for that grand mare Lady Buttons as shown next are a typical example.
The purple is a chase ratings, next the green being a hurdle race. The third race circled in red is  from a race under Flat racing rules.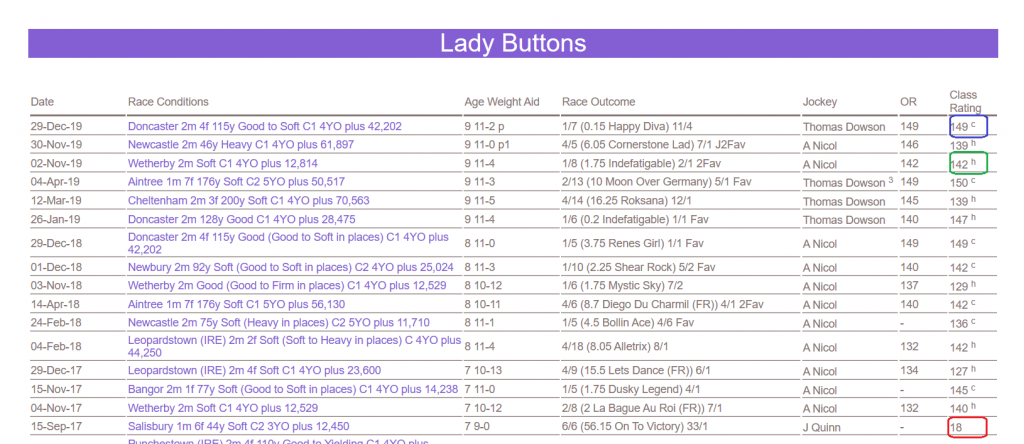 Articles On Using the Racecards
Simply put RacingFormBook will help inform and assist you to find winners and enjoyment from Horse Racing. Provide a unique rating method and racing results/racecard data.
To further anyone's ambition to use the information, whether this is as a point of reference, a repository for their ratings or to enable the research into racing systems.